Wayne Crawford, Injection Molding Supervisor at Rexair LLC, on outdoor fall fun in Cadillac 
This is the time of year that a lot of people here in Northern MI (Cadillac) love. I know it is one of my favorites. Softball season has come to a close but there are a lot of other things to do outside. I find it hard to decide what I want to do (because there is so many choices.) Each day I try to plan on doing something outside. If its Wednesday evening I know I will be hanging with my fellow dirt bike riders though the forest around Cadillac. Each week this group picks a different place to ride from we do around 20 miles then come back to the trucks and tell stories about how much fun we just had. I can't tell you how many people have came out to ride with us and tell me how they fell in love with the area. They love being able to enjoy the great miles and miles of trails that we have and how beautiful it is. Plus there are still three more Enduro races left in the season and the next on is right here in are back yard.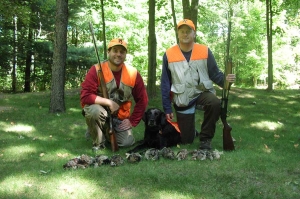 Now is the time of year I start getting pumped up about hunting season; you can feel it in the air. I start getting calls from my friends down south asking about how the bird numbers are and have I seen a good number of deer, and of course they ask if there are any monster bucks running around my place. September 15 starts it all off with the opener of small game season. Any day after that when I have some free time I tell Magnum (my dog) to hop in the truck we are going to go looking for some birds. He gets crazy happy when he hears those words because he knows what it means that we are going to go for a walk in the woods and hopefully I can hit some of the fast flying birds.
The weather is still nice out and one day I'll go for a bike ride around Lake Cadillac the next maybe a walk in the woods looking for a bird, then jump on the dirt bike and go for a cruise.
School is back and there always a football or volleyball game you can go watch. Just so many things and so little time (What to do tonight?)